Show Your Local Love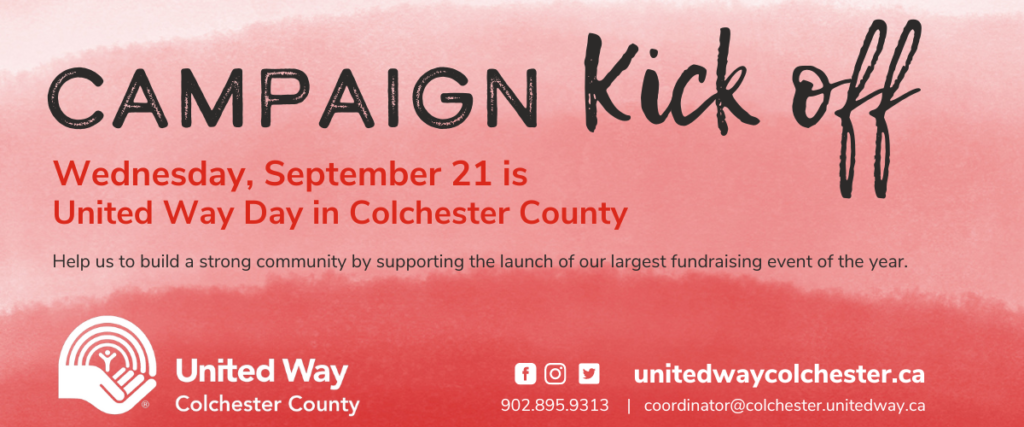 United Way of Colchester County believes that by uniting our community we can create more opportunities together than separate. Our annual workplace campaigns bring together people from all walks of life to give our community more options for a better life. By uniting our donations, we can do more, help more and overall make Colchester County a better place for all.
Don't have a workplace campaign, but would like more information?
🔴 We would LOVE to have you and your workplace on board this year.
🔴 We would LOVE for you to join us at our Campaign Kick Off Celebration!
Wednesday, September 21  |  8:30 am at the Inn on Prince
🔴 We would LOVE to connect with you about hosting a quick presentation on the impact your workplace can have on our community by supporting the United Way.
Please contact the United Way office at 902-895-9313 or email ed@colchester.unitedway.ca
Communities can wait for things to happen or they can choose to make things happen for themselves.

– Unknown
Support your local United Way and help us make make this year the most successful Colchester Campaign yet!
---
🚨 NEW THIS YEAR! 🚨
If you would like to participate in our UNITED WAY DAY on Wednesday, September 21, please fill out THIS FORM and send it back to us at coordinator@colchester.unitedway.ca by September 6, 2022.
*Please note: If you currently have an ongoing Workplace Campaign with our United Way, this is a separate initiative
---
Stay tuned to our Facebook page for additional campaign events!
Meet Our 2022 Colchester Campaign Team
Please see our Committees page for more information.