Our goal is to alleviate and reduce poverty in Colchester and Cumberland counties. We team up with community organizations, businesses, governments, and people like you to achieve it. Join us.
---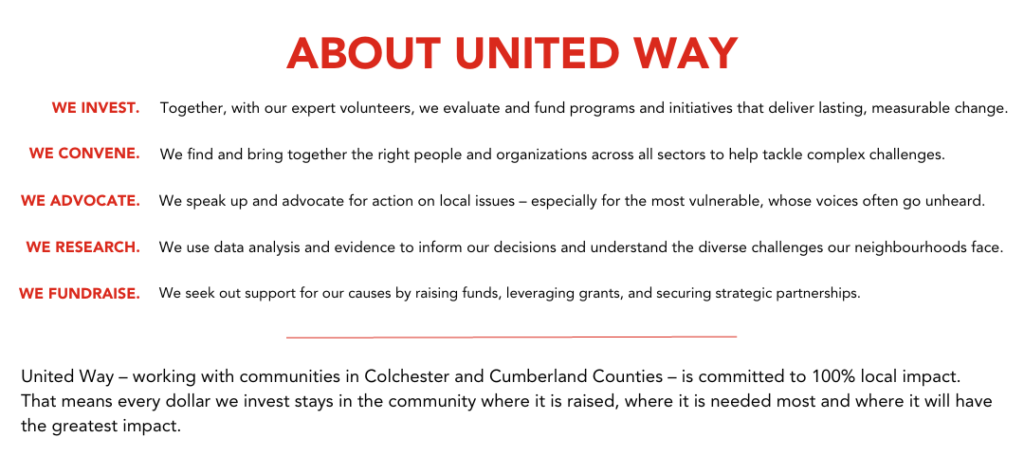 United Way of Colchester County History
The United Way of Colchester County has been an active and respected community organization in Colchester County since the 1950's.
Through the years, the name has changed from Community Chest to United Appeal to United Way. In the '50s and '60s, fund-raising campaigns were conducted door to door under the Red Feather banner. The money raised since 1952 has been distributed to individuals, community groups, and organizations to help face the challenges in their lives.
In the late '70s, United Ways across North America gained access to payroll deduction in workplaces. Currently, one hundred plus volunteers are active in fundraising campaigns conducted in over 80 workplaces across Colchester County. The funds collected are distributed locally to programs and services in our community.
In 2022, the United Way of Colchester County committed to leading the Community Campaign for Cumberland County as well as Colchester. All funds raised from donations and workplace campaigns in Cumberland County will continue to be invested in organizations within the Cumberland region.
---
United Way of Colchester County's Registered Charity Number: 11927 8489 RR0001